Highly Recommended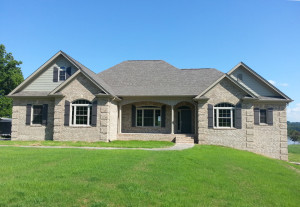 Our clients have been extremely pleased with the personalized designs, excellent customer service, and high quality construction of their custom homes and have recommended us to their friends and families. They would also like to share their great home building experience with you:
Lee and Valerie,
Michelle and I want to thank you folks for doing such a great job building our new home here in Legacy Bay,  Mooresburg, TN. Since we were living in Ohio when the house was being built,  I'm sure you can understand how much trust we placed in your ability to manage the subcontractors and make sure everything was done as we requested. We couldn't have found anyone that could have done a better job of understanding our wants and doing whatever was  necessary to accomplish our goals. We also were very impressed with your level of communication through the process, all the pictures you sent, and most of all…  your honesty.
We really love our new home and would undoubtedly recommend you to anyone wanting to build a new home.
Thanks,
John and Michelle Dudon
What People Are Saying About Us
"Lee Stone built our house, and we have nothing but nice things to say about him. He had a lot going on at the time, but made things right if we or he found anything. "
TN Vol, Russellville, TN
"I have to agree with the last posters. I bought a home from Stone Builders about a year ago. It was the "Gabrielle" style. I thought that Mr Stone was very nice to deal with. Very professional too. It was my first home I had built and I was nervous to begin with. However, I felt that all of my questions were answered. I do not have any problems with my house but I got the impression that if I did I could still call them and they would take care of it. I know that the economy is down but if you are able to build a house I would call Mr. Stone. Hope this helps you. "
morristown40, Morristown, TN
"I know Lee Stone, the owner of Stone Builders. He is a very honest person and builds very good constructed homes. He is very picky about even the smallest things when building a house. You can not go wrong with him. "
lll, Knoxville, TN
"I would agree with all the people who bought a home from Stone Builders. I thought that he was very easy to work with. You can tell when someone is trying to take your money but that is not the case here. Lee Stone built a good quality home for my family. I went to the website and looked over the different floor plans. I also checked out other builders but felt that Stone's was the best for what I wanted. I would look into using them if you are still interested in building a home. Good luck!"
mattie04, Morristown, TN
If you would like to talk with us about building your custom home, please email us through our Contact Us page or call (423) 318-8680.